Friday evening I saw Andrew Dickson deliver his presentation, "Sell Out", which was part of PICA's TBA:07 festival. Using PowerPoint slides and pacing back and forth with a microphone and huckster's mannerisms, he described "the 27 steps to selling out". I'm not sure what to say about his schtick -- not funny enough to be stand-up comedy, not scholarly enough to be a lecture, not over-the-top enough to be motivational speaker, almost but not quite critical enough to be satire. (Here's a good review, and a caustic review.) It was thought-provoking though, and entertaining, especially since I've known Andrew for years, back when he was a starving artist surviving on cheap burritos and maxing out his credit cards to make Good Grief, an endearingly corny coming-of-age/roadtrip feature-length film in which I played a small role (the shoot was great fun, although I'll admit I'm kind of glad my name is misspelled in the imdb.com credits). Now he's getting paid handsomely to write copy for death star ad agency Wieden+Kennedy, where his performance took place. Along with its main client Nike, W+K attracts more than its share of haters, but the interior of their building sure is nice, designed by Portland's highest-profile architecture firm Allied Works.

Later that night I came to Holocene just in time to see the end of Captain Ahab's set. Their music is a balance of dirty, smart, and stupid, with an emphasis on the stupid. But you gotta love that one half of the scruffy duo is solely responsible for dancing, sweating profusely, stripping down to a blue Speedo, and getting the crowd live (or molesting them, depending on your point of view). Punk rock for the age of laptop computer music.



photo swiped from Impose Magazine (click for more pics)

Headliners Yo! Majesty attracted a capacity crowd. I don't know if they're the only out lesbian hip-hop act around, but they're definitely the best. They were seriously good regardless of identity politics, and deserve to blow up huge.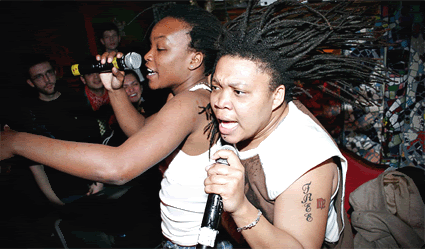 Apparently continuing the night's theme of sweaty exposed skin, one of the Y!M MCs performed topless, which was probably intended as a confrontational move, but since we're kind of jaded around here, the audience was unfazed by the exposed boobs. Her stage presence was hard and butch, but in an odd moment at the end of the set, she got a little verklempt at the crowd's enthusiasm, almost like she had never seen so many happy white people dancing and cheering in one sold-out room before.

Beth Ditto of the Gossip interviews Yo! Majesty: